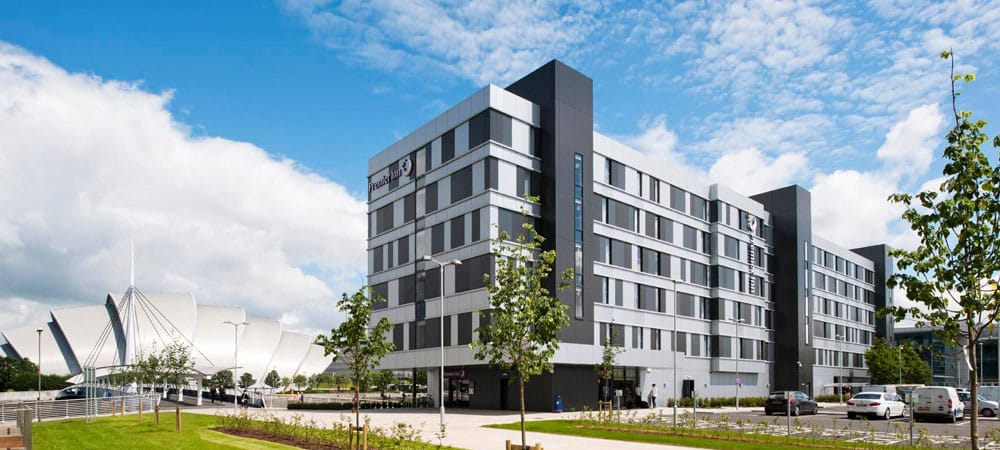 An £11m Premier Inn hotel designed by Lawrence McPherson Associates was handed over by Ogilvie Construction ahead of its official opening in June 2014.

Sandwiched between the BBC and STV headquarters on the banks of the Clyde the scheme incorporates a 180 seat restaurant overlooking the new Hydro Arena alongside 180 rooms of accommodation.

Stephen McGhee, principal of LMA said: "We are delighted to have been involved in the design and delivery of Premier Inn's flagship Glasgow hotel on what has been a very successful project.

"The design and construction of the building was a challenge at times however the design and construction teams worked together to resolve these challenges and delivered the hotel ahead of what was a tight design and construction programme to ensure the hotel would be trading in time for the 2014 Commonwealth Games."
Walker Cladding Limited were installers of the Sarnafil membrane roof and over 3000sqm of Ashtech Simplicity rainscreen.
Iain Sweden, a Director of Walker Cladding Limited, "The development was time critical, and through excellent planning, interfacing with our own supply chain partners, we were able to maximise our schedule, and ensure that we remained ahead of programme through-out".
"It was a challenging build, but we were delighted to provide an excellent service to Ogilvie Construction, and look forward to working with them and Whitbread plc in the near future".