Wall Cladding Systems
The vertical facade of every building provides the primary function of protecting the inhabitants from the elements, however it must also be aesthetically pleasing due to its visibility. Walker Cladding Limited offer a wide array of cladding systems from traditional built-up cladding to ACM Rainscreen systems.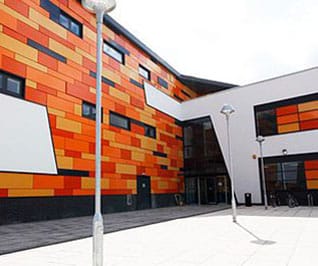 Rainscreens
Rainscreen cladding is a unique method of cladding or over cladding buildings by providing a cold, ventilated façade which protects the external fabric of the building against the elements.
The rainscreen panels are normally secret fixed to a lightweight support structure which is secured to the building's substrate to create a ventilated cavity between it and the façade – insulation is applied to the external wall or within a tray/stud system.
Rainscreen systems are available in a wide variety of panel types and profiles, all panels are individually sized for the project offering freedom of design and as a system, offer excellent whole-life costings due to speed of installation and low maintenance requirements
An extensive range of rainscreen materials are available including: aluminium, stainless steel, ACM (Alucobond & Reynobond) granite, copper, ceramic, terracotta, zinc.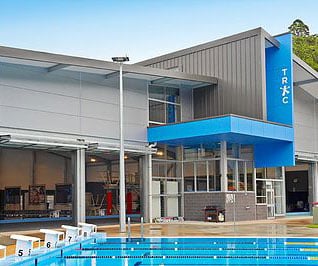 Composite Panels
Composite panels are a cost effective and robust solution for cladding a building where speed of installation is paramount to the solution.
Composite wall panels are available in flat, micro-ribbed and profiled variations and can be combined to create an interesting blend of profiles.
Panels have integral factory sealed weather tested tongue and groove side lap joints for maximum watertightness, allowing both vertical and horizontal orientation.
Panels are available in aluminium or steel and in a range of sizes, colours, coatings and finishes.
Integral windows, doors and louvres are also available for this versatile cladding system.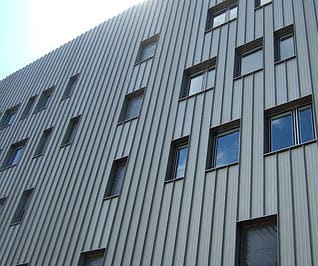 Built up Systems
Site assembled built-up cladding system can be used to create a cost efficient wall finish, and can be varied by the use of differing external profiles, ranging from trapezoidal to sinusoidal or standing seam.
The systems are adaptable and can be tailored to achieve a variety of u-values using conventional spacer systems. A primary benefit of site assembled systems is that through the incorporation these panels can be installed directly on the boundary line, and provide high levels of fire resistance.
Profiles are available in a wide range of thickness, coatings and finishes, and and flexibility allows vertical, horizontal or off-set orientation of the external sheets, to create interesting aesthetic finishes.

Visit
Unit 38, 25 Kyle Road
Kyle Industrial Estate, Irvine KA12 8LE

Call
T: 01294 271463