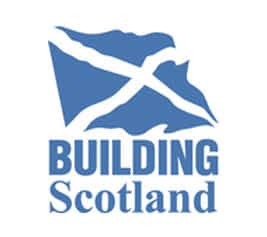 At the beginning of 2014, Bill Reid and Iain Sweden founded Walker Cladding Limited, a company which specialises in the installation of metal roofing and cladding systems in Scotland.  A short 10-months later, Walker Cladding have secured and completed substantial contracts through-out the UK, and Building Scotland finds out why.
Walker Cladding was a trading subsidiary of WG Walker (Ayr) Limited, an established flat roofing business based in Prestwick, since 1811. The cladding division had been created to focus away from the core business of flat roofing, and develop project opportunities within the pitched metal roofing and cladding markets, which it had achieved with good success.
At the end of 2013, the division had developed substantially from a roofing and cladding division into an 'Envelope Contractor' and it was at this stage that Bill Reid and Iain Sweden started and successfully completed an MBO, establishing the new business Walker Cladding Limited, and since, the company has gone from strength to strength.
In January 2014, the business relocated into new premises, a purpose built office pavilion near Prestwick Airport, which has provided the environment to recruit a full complement of staff, and allowed the business to expand its scope of operations, Bill Reid explains, "As a trading arm of WG Walker, the business had a series of shared resources, but no real focus towards core development, so it made commercial sense for Walker Cladding Limited to be formed as a new and separate company, and in doing so we were able set out clear directives for the future development of the business. Crucial to this was the development of a team of personnel, properly resourced and working with clear leadership".
Within 6-months the team had been formed, with dedicated personnel providing technical design, estimating and surveying resources for building envelope solutions, with the support of a contractual team, all under the leadership of Directors, Iain Sweden and Bill Reid.
"The intention from day one was to form a team not just of the best and most skilled people in the industry, but to create an environment where everyone wanted to work to their maximum potential for the benefit of our clients. Our vision is not to become as good as the market leaders; we want to set a new benchmark for our customers, through all the stages from concept to completion".
It is apparent from the work completed by Walker Cladding Limited that they have gone some way to achieving these goals in a critically short period of time.
The recently completed Premier Inn Hotel on the Clyde Waterfront at Pacific Quay in Glasgow perhaps best exemplifies this ethos. Iain explained "The hotel development was a challenging project, working closely with Lawrence MacPherson Architects, this project required substantial design input by our team to achieve the concept required by Whitbread plc in a critically short construction period to ensure completion in time for the Commonwealth Games."
"Working closely with our Supply Chain we were able to improve on the logistics of the project which allowed us to meet the expectations of Ogilvie Construction Limited, and ensure that the hotel was completed ahead of schedule and in advance of the Games".
Communication is seen as the vehicle to success and continued expansion, "we operate in a critically tough market and whilst there are encouraging signs, there is no room for complacency" explains Bill.
"Walker Cladding Limited operates within a very select and controlled customer base, with over 70% of our business being developed through repeat customers. We value our customers, and in return they value the service that we provide, it really is that simple!"
As well as working with a strong client base, Walker Cladding has also developed an excellent Supply Chain with construction product manufacturers, and has selectively aligned themselves with manufacturers of quality roofing and cladding systems and ancillaries. "It's important that our Suppliers understand our values" explained Iain, "our success is reflected by their share of our business, and we have no desire to dilute the quality of our offering, by aligning with the wrong suppliers".
The list of completed projects grows on a weekly basis, residential projects in Glasgow, healthcare projects in Edinburgh, schools across Inverclyde and a variety of retail and commercial developments across the UK extending from London to Thurso, and almost every other major conurbation between.
"We are confident in ourselves, we listen closely to our clients, we provide cost-effective solutions which never compromise the project specification and are setting new levels of service in the delivery of the building envelope, and that keeps us happy!" concluded Iain.
It appears from the completed project images on their office walls that their clients wholeheartedly agree with their approach and continued success would appear guaranteed.