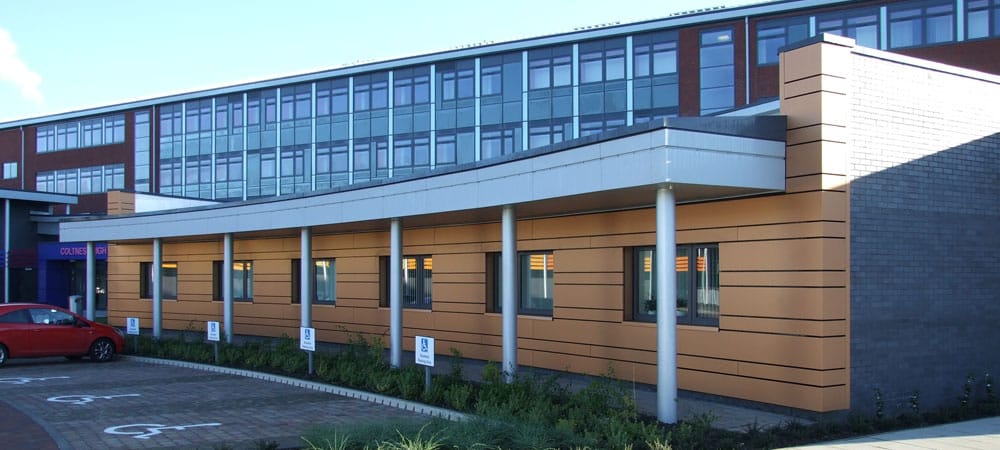 A £26 million, 12,000m2 re-modelling of a North Lanarkshire school has been successfully undertaken by Walker Cladding Limited
Part of North Lanarkshire Council's "Schools and Centres 21" framework agreement, Coltness High School in Wishaw underwent a major transformation over three years, with a mixture of refurbishment and new construction.
Outdated and ageing facilities have been replaced by an ultra-modern complex, designed to create a safe, stimulating and challenging environment for all the building's users, including 800 pupils. Pupils contributed to the designs produced by CRGP Architects and were actively involved through a series of workshops in the creation of graphics, artwork and furniture to create a unique brand for the school. Internal colour schemes were developed with a palette drawn from colours within the school logo.
The school has been designed with environmental issues firmly in mind. Features include a high performance envelope, biomass boilers, ground source heat pumps, rainwater harvesting and a passive stack natural ventilation strategy. Minimising energy use involves active occupant participation. Real time building energy management system readings are visible to students.
Walker Cladding & Ash & Lacy have built up a formidable reputation for their technical advisory service. Recognition of the extensive involvement with the project architects and engineers in the AshJack™ element of the refurbishment phase led to an invitation to provide the ACM wall cladding to the main entrance.
AshTech™ Freedom 1 rainscreen cladding was selected in a striking Ultra-Marine Blue and Indiana Copper scheme for the curved wall design. Staggered joints were emphasised through the powder coating of all the exposed vertical and horizontal extrusions, providing a strongly defined picture frame, highlighting the panel colours to the maximum possible extent, and has become the focal point for all visitors to the school.