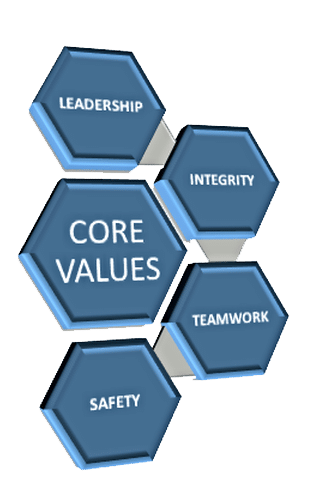 Our Values
The Core Values of Walker Cladding Limited are the defining ethics which ensure success as a business and delivery of every project on-time and on-budget.
As a Management we are keen to foster these values through every part of our business and expect our Suppliers to embrace these principles, ensuring that we approach every project with a unified 'Team' dedicated to success.
Our core values are:
Uncompromising Safety
A safe working environment is at the heart of everything we do. Our uncompromising approach to the safety of every employee, client and supplier is our key cornerstone.
Integrity
Integrity will underpin every action in our business. We will conduct ourselves with honesty and respect, which will determine our decisions and actions.
Teamwork
People are the centre of our business and we will foster a culture of Teamwork and pride to the benefit of our employees, our suppliers, our clients and indeed our ability to deliver each and every project.
Focused Leadership
To maintain the current and future successes of the company we must be clear in our goals and focus. Clarity provides security for the company and its employees. Our company grows on the strength of character from within the leaders throughout the company

Visit
Unit 38, 25 Kyle Road
Kyle Industrial Estate, Irvine KA12 8LE

Call
T: 01294 271463