Environmental Systems
The past decade has seen an increased interest in the design of roofing systems which can integrate with their surroundings and in many cases reduce the effect that the construction has by creating green spaces in urban areas. At Walker Cladding Limited we have developed, in conjunction with select partners, environmental roofing systems that provide a variety of benefits to both the environment and building owners alike.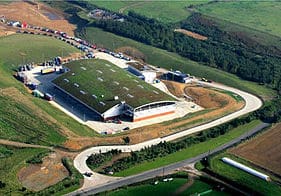 Green/Brown Roofs
Working in Partnership, Walker Cladding Limited can provide an Extensive Green Roof option supported on single ply membrane or alternatively standing seam.
Extensive Green Roof involves a thin layer of growing medium with a seedum mat, which by its very nature will require little to no maintenance.
This is an easily installed roofing system whiuch can provide substantial benefits to building performance, including reduced energy & maintenance costs, UV Protection, rainwater retention and improved cooling and heating cycles through seasonal variations.
Importantly and not forgetting it can be used to great effect to provide an aesthetic finish which is wholly in keeping with the surrounding environment.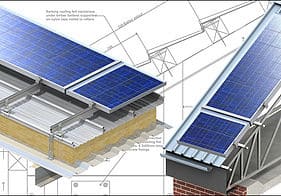 Solar/PV Solutions
Solar photovoltaics are the UK's most popular renewable energy product, systems can be incorporated into metal pitched and membrane flat roofs, wall cladding and plant screens.
Through Partnership, Walker Cladding Limited guarantees the photovoltaic system is designed to ensure the structural integrity, electrical safety and lifetime performance of both the new building and system.
The inclusion of Solar photovoltaics on refurbishment projects can be a difficult as due consideration needs to be given to the existing structure, with regard to the loading capacity, and its likely life cycle.
Walker Cladding Limited with our selected Partners will provide bespoke solutions to ensure fully integrated systems, which are both suitable and provide the benefits expected of this sustainable technology.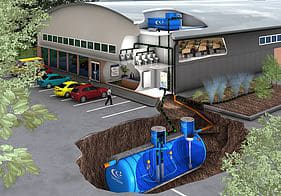 Rainwater Harvesting
Rainwater harvesting has often been considered the preserve of the continentals, however this popular environmental system is becoming more prominent and popular within the UK due to the need to lower building operating costs, and the drive of many companies to improve their environmental footprint.
Rainwater Harvesting systems can be designed for W/C flushing, irrigation, process water, cooling, washdown, the list is almost endless.
The systems are generally categorised as, direct dual pumped, indirect gravity or indirect boosted system, but all three can be combined in order to provide the most suitable solution.

Visit
Unit 38, 25 Kyle Road
Kyle Industrial Estate, Irvine KA12 8LE

Call
T: 01294 271463